Isaac Davis Trail Questionnaire Information
Please print a copy of this form for each Scout and Scouter who plans to earn an Isaac Davis Medal. Copies of this questionnaire will not be available at the Camporee.
Please present this form to your Unit Leader and he/she will bring the completed forms to the Registration Trailer.
Only Unit Leaders (not individual scouts) will be able to claim Isaac Davis Medals.
The Isaac Davis Medal (pictured at right) is awarded to Scouts and Scouters who have demonstrated to their unit leader an understanding of the history of the march and material covered by the History section of this Web site by successfully completing the questionnaire (below).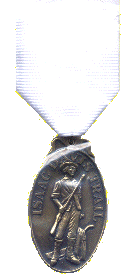 Isaac Davis Trail Questionnaire
How were the Acton Minutemen notified that the British were coming?

_____________________________________________________________

Who was the officer in charge of the Acton Minutemen (do not include the Militiamen in your answer)?

_____________________________________________________________

How many Minutemen answered the call for Acton and assembled at Isaac Davis' house?

_____________________________________________________________

What are the three names on the Acton Monument at Acton Center?

____________________________________________________________

____________________________________________________________

____________________________________________________________

What is the bridge made of at Nashoba Brook?

____________________________________________________________

How many British are buried at Concord Bridge?

____________________________________________________________

Who is the statue of at the Concord Bridge?

____________________________________________________________

What did Isaac Davis say about his men?

____________________________________________________________

What was the date that the march took place?

____________________________________________________________

Why did the British come to Concord?

____________________________________________________________
COMMENTS